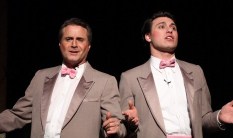 Last week I wrapped up a successful run of "White Christmas" at the Cedar Falls Community Playhouse.  We entertained over twenty five hundred people who seemed quite delighted with the romantic optimism of the Irving Berlin score and the Broadway adaptation of the 1954 Bing Crosby and Rosemary Clooney classic.
I, too, was caught up in the spirit of Christmas from the experience of playing Bing's character, Bob Wallace, with a wonderful cast and crew, and from the smiling faces of all those people in the audience who shared our holiday sentiment.
It can be hard to assimilate back into reality after experiences like that.
It was hard to accept, after we opened our good natured show, that the bodies of two beautiful girls from Evansdale were discovered and that the hopes of thousands and thousands of people, who were praying for their safe return, were dashed.  As a cast and community we tried to put grief to the side for a few hours each night to commune in a celebration of Christmas where we lived in a kinder, gentler world.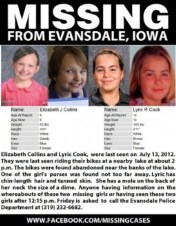 My youngest son, Alexander, held the girls particularly close to his heart.  Everywhere we went since last July, when we saw a poster or a bumper sticker with Lyric and Elizabeth he said, "There are our girls, Dad!  Where do you think they are?"
I was afraid of how he might react when told that they were found, but were no longer alive.  His response was what should be expected from someone who hasn't yet seen a decade of life; he simply didn't understand the gravity of what had happened…and how anyone could do harm to little girls.
"Are they in Heaven now?" he asked.
"Yes," I replied.
The tragedy of Lyric and Elizabeth transcends all other events here, but this year also offered a presidential contest that was the most contentious in memory and I recoil as I think of the ideological battle lines that were drawn and the words that were thrown both ways to hurt one another.
I have "defriended" and have been "defriended" on Facebook due to rancor shared in posts.  And I cannot help but think of how the billions of dollars that were spent, with no intention other than to destroy the opposition, could've been used in better ways.
I don't have a precise and poignant perspective to put all of this into from which I can inspire others to believe, as I do, that America, and the World, will improve in 2013.  I am optimistic by nature and I tend to rest my hope in a core belief that people, as a whole, are good.
Good deeds don't happen out of thin air, however, and we must conspire to bring about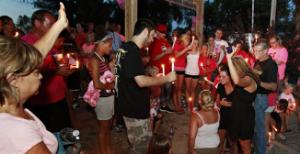 acts of kindness and generosity.
The smiles from an audience every night, the loving tears around a candlelight vigil for two little girls, and a cop in New York who took part of his modest salary to buy boots for a homeless man, keep my dream alive.
"I'm dreaming of a white…and black…and brown….Holiday…just like the ones I hope will come to be…where treetops glisten and children listen…in English, Chinese, Hebrew, Spanish, or Arabic…with every holiday card I write….and I pray that we find our humanity so that we will protect our children, and so that we will, once again, share the bounty from the promise of freedom…"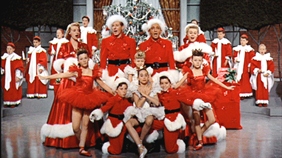 "Happy Holidays!" from Wallace and Davis.