I went to "Orientation" with my 14 year old son who is attending Washington High School in Cedar Rapids.  T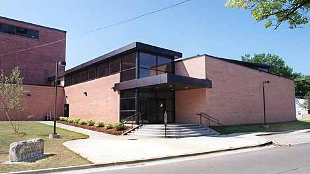 he evening was an introduction to the philosophy, achievements and curriculum of the school, hosted by the principal, Dr. Ralph Plagman, and several department heads.  It was followed by break out sessions in 14 different classes.
The teachers were passionate, accomplished and devoted.  This is a public school that lives up to the standards from the Iowa Department of Education and it rises to the best of what education can offer young minds and bodies by offering diverse and specific disciplines, all designed to equip students with every possible tool to succeed.
This is also the criteria of all Public Education.
"He who opens a school door, closes a prison." –  Victor  Hugo
Washington High is consistently ranked by several sources as the #1 High School in Iowa and so it should come as no surprise that it was an impressive orientation, but as I sat there and listened to teachers explain their course material, I thought back on my own experience in high school.
I went to a very small school, a "lab" school, that was part of the University of Northern Iowa, and we did not have as wide a selection of electives as what I saw at Washington. Yet the courses that were offered, my teachers, and ultimately the guidance I received, was extraordinary, none the less.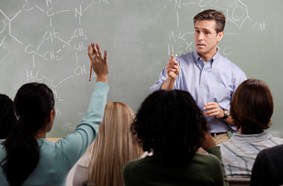 I thought about the teachers that I know in my own community; who are part of Cedar Falls, Waterloo, Waverly, Hudson and Dike.  They are committed, informed, motivated, and nurturing.  The students are cared for, given opportunity and are facilitated to discover themselves and their goals.
I thought about other public schools that I've visited over the years where I've been asked to talk about my own career path and I recalled how consistently impressed I was with the staff, the curriculums, and the energy I witnessed from students.
This is not to say that there are not bad schools in our public school system, or that there are no bad teachers; this is not a blind affirmation that ignores falling test scores (particularly in math and science). What this is, is a call to action in a different direction from what the public discourse regarding education has been—
The problem, as it occurs to me, is in the private sector; it lies with parents, our socio-economic and political perspectives.
"It is very nearly impossible… to become an educated person in a country so distrustful of the independent mind." – James Baldwin
The status quo in America has begun to de-emphasize math and science.  A turn toward anti-intellectualism, a cultural shift that denies science in order to accommodate dogmatic ideologies, has led to a falling curve in disciplines where America once led.
In the political arena, representatives fighting for education funding have been met with rejection from austerity obsessed opposition.
In the private sector, the convergence of these fights has created a hostile view of teachers, their unions, their pensions, salaries and benefits.
Echoed in this discourse are phrases like "Public schools suck!," and "We have bad teachers!"
Neither is true.  Quite the contrary, actually.  What we have is a diseased view, from too many people, of the entire concept of education.
The mission statement from the U.S. Department of Education is "…to promote student achievement and preparation for global competitiveness by fostering educational excellence and ensuring equal access."  Improvement will come toward achieving that end when we improve our political commitment to public education and when we improve our respect for the men and women who have chosen as their life's work to facilitate the life's work of our children.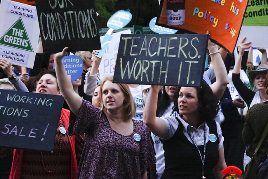 Stop blaming the schools.  Stop blaming the teachers.  Start making the system work by believing in education itself.
"Education is the key to unlock the golden door of freedom." – George Washington Carver