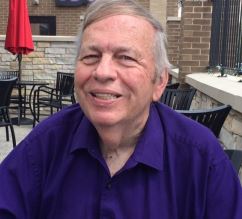 I just read the news that Jon Crews has died from cancer. Jon Crews, the mayor's mayor; the heartbeat of one of America's finest small towns. Condolences framed by sweet memories and tears will go from house to house today and for many days to come.
I first met Jon Crews in 1971. I was a 14 year old just about to enter high school and I wanted to work on anything political that summer. America was involved in Vietnam, there was civil unrest in the streets and I wanted to be part of the movement that was holding elected officials to the fire.
The national scene was disheartening, but then I heard about this young man running for mayor. I said, "Right on!" Yes, "Right on!" was an acceptable term in those days. Jon Crews was only 24 and would be the youngest mayor in Cedar Falls history; maybe any history anywhere; and I saw him as the future. Jon Crews was part of the movement of young America!
I can't tell you even one policy point that he was running on, but I showed up on Saturday mornings to hand out flyers and go door to door for this Young Turk. Jon won, as we all know, and went on to win many more times. He served our town for over 30 years. 15 terms, I think.
He won because he was the right person for the job.
He was the right person for the job because he showed up. I'm not saying that to be funny or flippant; showing up is the job. He showed up for every function, fundraiser, event, gathering, meeting, congregation and committee. He showed up because he loved this town and all of us in it.
This town was his life and would become his legacy. The streets, the buildings, the schools, the parks, and the shops that made Cedar Falls a showplace of the American dream. He showed up for the owners, customers, students, seniors and children who called Cedar Falls their home.
He connected townspeople with business people, students with entrepreneurs, and politicians from the city to the state. And we are all better off, much better off, because of his leadership.
I used to tease Jon. I think he liked it, because when I didn't he'd remind me of the last time when I had. One year when I was announcing the Sturgis Falls parade, he emerged from the convertible holding his wife Ronelle's purse. I commented to the audience "how fashionable our mayor looks in his Palace Clothiers blazer with a matching man purse."
He laughed, and every time I saw him since he'd comment on how he forgot his man purse. I enjoyed having fun with him because I truly liked and respected the man.
Before he ran for the second to the last time he had intimated to some that he might retire. Candidates put their hats in the ring, committed to continuing Jon's vision and stewardship of our community. It turned out, though, that Jon wasn't quite ready to retire and he ran again. And he won again.
He won because he was, and always will be, "the Mayor of Cedar Falls."